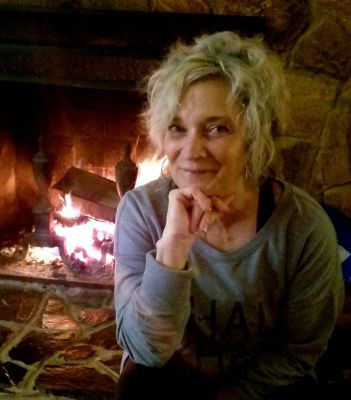 Art is magical when it speaks to its audience. The art I create is probably the only real magic I have encountered in my life. It heals; it is pure. I am an idealist, stealing elements from observations to create a perfect composition. I pay close attention to colors and how they play together on a canvas. The patterns of light and shadows dancing in high contrast excite me. Whether I am creating with oils or acrylics on canvas, drawing with charcoal, graphite, or pastels on paper, I purposefully consider the palette I am using. I love getting lost in the song of color: cranked up and loud.
Yvonne Agee - Artist Statement
I use triangles to guide me in the placement of objects and color in a composition. Color and value jump up and come alive as I work a piece often turning it completely away from its initially intended direction. I prefer to create still-life paintings from direct observation, but landscapes seem quick to change and challenging to capture. When I am out on a river walk or riding down a road, I take pictures capturing a moment that attracts my eye, or I might stop and jot down what I just saw and felt. Walking in natural settings, strolling along a river is more than exercise to me, these are engagements in a world of beautiful contrasts and reflected light. Painting from a captured photograph, a written phrase, or a quick sketch invites room for imaginative twists inspired by memory and emotion of the first encounter, beyond an imaginative twist abstraction may take form. Abstract imagery often is a beautiful accident for me.
Often while creating a piece, the anticipation of a next creation bubbles up from deep within me. The anticipation feels like an unexpected snowfall on a crisp clear morning that energizes and invites me to come out to play or mesmerizes me through a window view. I am always amazed by how a series of works stems from the original piece. Every new twist that I discover brings me joy: it's that inner smile that cannot be wiped off.
There are those moments when a canvas seems to call to me, and I can hear exactly how the paint should play. However, I never underestimate the value and purity of the unexpected on canvas. These surprises happen for me through color, mark making, texture, mixed media, or the sudden idea of a new character introduced to the piece. These moments are rare gems, and precious to me, allowing my artistic voice to expand and stretch before returning to a new normal.
I want my art to enable its audience to step into that moment where the only noise heard is the voice of the art piece: to relax and unplug from daily bustle. I want the viewer to find pure pleasure as they observe a piece or find solace in acknowledging an emotion or perhaps a memory, whether tender or ravaged. I want viewers to stop and absorb the moment that I have tried to capture.
Biography
An Artist's Colorful Tapestry: Life – Yvonne Agee
A great writer can create the illusion of a colorful tapestry by artfully combining words on paper. A great artist can create a visual representation of a colorful tapestry without a single written word, but with paint on canvas. As an artist of written word, one could say that Yvonne Agee might have a bit of writer's block, but the good news is that she chooses to create captivating and stirring visual works with paint on a canvas.
The precious gem of acquired maturity wrapped in a deeply rich and colorful tapestry is the earned treasure of Yvonne's myriad of life adventures. There is depth to her understanding and tolerance from life experiences: they steamroll over and through her which enable her to create a moment or emotion on canvas. Yvonne is on a constant quest for those moments in life that allow her to tap into her creative spirit, challenge her tenacity, and entice her to continue to learn as an artist.
Yvonne Agee was born in the 1950s in Wheeling, West Virginia. She can only claim her birthplace through her birth certificate as her parents moved six months after her life began. She grew up in the Shenandoah Valley in Timberville,a small-town neighborhood that would be every child's dream even today.
Because of the large number of kids growing up there, she spent a large part of her childhood outside playing for hours at a time. Her hometown was only minutes from the mountains in several directions. She spent a fair amount of time playing and exploring this wonderful mountain terrain as a child, and later. The colors, the smells, and sounds will always dwell in her heart and influence how she interprets what she sees and transfers to a canvas.
Yvonne grew up watching her parents put themselves through college, which instilled in her a strong belief that one can do anything she desires with determination and passion. She cannot recall ever not drawing or mixing colors. She remembers sitting at the dinner table with her father as he was working on his college homework, and she would be coloring with her beloved crayons and creating new colors by layering them. Her mother had a talent for drawing, and both parents recognized Yvonne's talents and encouraged her artistic endeavors throughout her childhood. Her curiosity often took her on other explorations.
Her father's college direction in science provided quite a diverse set of experiences from early on. She grew up spelunking, insect and rock collecting, learning a bit of taxidermy, camping, hiking, and assisting her father as he prepped cadavers for the local university medical students. These adventures meant they traveled the east coast frequently, and for a small-town gal, this opened her eyes to a larger new world. Before junior high, Yvonne had been to Canada and Mexico, very unlike her classmates in that rural area.
In high school, Yvonne's art teacher also recognized her passion for art. She worked with the school division to create additional art levels for Yvonne. As a junior in high school, Yvonne attended a program at Rhode Island School of Design where she was introduced to and forever hooked on studying visual arts. She then attended Virginia Commonwealth University as a painting and printmaking major where she was formally introduced to Salvador Dali, Leonardo da Vinci, and Picasso. With her imaginative nature and love for science, it is not surprising that Yvonne considered these three artists to be in her wheelhouse.
Two years in at VCU, writing on paper rather than painting on canvas became a compelling adventure: Yvonne found herself turning to English as her major. She supposes this was the beginning of her derailment from her art journey. Yvonne looks back on this with a wistful smile, as she now embraces her past experiences for the depth they have given her. As she often says: "Life happens, some days are sparkling gems, some days are rocks. Collect them all and love them for their own unique beauty."
As youthful decisions will have it, Yvonne became disenchanted with college life and lessons. She decided to work in the "real world" for a spell. That spell was spun over several decades resulting in a college degree and a beautiful family. Yvonne went back to college while raising her family, graduating from The University of Virginia with a BSEd in Mathematics and from George Mason University with a Masters degree. A Post Graduate Endorsement in Administration and Supervision from UVA rounded out her public education journey. While working in public education teaching mathematics to high school students, Yvonne studied graphic design at a local college, and took an occasional drawing class to help her stay balanced through the years.
Yvonne Agee is currently retired from education. She has run the gamut of experiences from snowboarding and kickboxing, developing high school mathematics curriculum, public school administration, cider house bar tending, riding hunter jumpers, to screen printing, not because she had to, but because that is who she is. She continues to explore the world around her now through art with a renewed passion. Professionally she has faced the roles of teacher, mentor, and administrator, head on, and after thirty years in education – meeting new challenges every day, every semester, every year – she is ready for her next adventure as a professional artist.
Yvonne is constantly evolving as an artist, and she knows that her style of bright colors and contrast will move with her. Her art can be realistic or representational, yet she will somehow find an imaginative tweak that makes a viewer "tilt her head a bit to ponder". Yvonne's imagination helps her to filter what she sees and may even be the only voice she hears at times. She loves oils, respects acrylics and each argument she has with them, remains in awe of watercolors, and uses charcoal, graphite, and conte׳ crayons to ground herself when she has wandered too far.
Yvonne's studio is located in her backyard, which happens to be in the middle of acres of tall pine trees for as far as the eye can see. The studio is reminiscent of a small rustic mountain shack complete with a front porch, which she feels is perfect for barefoot dancing or sitting. She often refers to her view from the porch as if she is inside a snow globe surrounded by nature, especially if it is snowing. Her rustic little studio suits her need to unplug, and the privacy it allows by its location invites her to leave the busy world behind for periods of time to create.
After the first year of retirement, Yvonne has begun to relax and embark on a new art journey. With teaching an occasional paint night class, several paint classes for Parkinson's patients through the Carilion Wellness Center, and being the featured artist for a Meet and Greet at a local shop along with weekly drawing classes, Yvonne's art journey has begun again. She finds herself spending her time in her studio once again creating art.
Painting and creating bring Yvonne joy and allow her to get lost in her work. As she creates each piece, focuses on the journey it leads her through, she is certain she will find herself once again as the artist that began as that small child wanting to mix colors and create beauty, but with bolder colors and a richer understanding of what she wants to paint on a canvas.
Resume
Yvonne Agee began painting the mid-70's. She first studied painting and printmaking in a summer program at Rhode Island School of Design. She then followed her passion at Virginia Commonwealth University in Richmond, Virginia as a painting and printmaking major for two years. Her art education also included courses taken at Piedmont Virginia Community College in graphic design and drawing, while teaching at the secondary level. Much of Yvonne's recent art education has been guided by her independence and self-direction, and by frequenting art museums, galleries and studying contemporary artists and styles.
Yvonne loves oils, respects acrylics and each argument she has with them, remains in awe of watercolors, and uses charcoal, graphite, and conte׳ crayons to ground herself when she has strayed too far. Her work is done on gallery-wrapped canvas or on canvas boards that can be framed to meet clients' needs. Having taught geometry for three decades, she uses triangles to compose most of her compositions and for color placement decisions on a canvas. Yvonne's palette usually ranges from seven to ten colors with primary colors always included. She prefers to mix her own secondary and tertiary colors, and to watch them marinate together on the canvas.
Yvonne and her husband have been married since 1989. They have two daughters, and three granddaughters.
Yvonne's artwork may be acquired through Nourish Louisa located in Louisa, Virginia and Coyote Hole Ciderworks located in Mineral, Virginia on Lake Anna.
• August 2018: Yvonne Agee's artwork was exhibited at Nourish Louisa with Yvonne as the "Featured Artist"
• September 2018: Yvonne Agee's artwork was exhibited in the Louisa Art Center's juried show "Rhythm and Light"
PRIVATE COLLECTORS INCLUDE
Cadie Wadlow, Roanoke, Virginia
Amber Baker, Louisa, Virginia
Elizabeth Stevens, Louisa, Virginia
Fred Reid, Louisa, Virginia
Julie Palais, Louisa, Virginia
Rachel Harkrader, Louisa, Virginia
Pam Martin, Louisa, Virginia
Donna Frago, Louisa, Virginia
Laurie Cooper, Louisa, Virginia
Kim Bickley, Louisa, Virginia
Michelle Barlow, Louisa, Virginia
Thomas Whitlock, Louisa, Virginia
Katy Lampman, Powhatan, Virginia
Jessica and Patrick Dunham, Roanoke, Virginia
Chris Denkers, (Coyote Hole Ciderworks), Mineral, Virginia
Travis Marion, Louisa, Virginia
Kristin Hicks, Louisa, Virginia
Shannon and Ernie King, Louisa, Virginia
Kathryn and David Andes, Bumpass, Virginia
Bettie Dunnavant, Louisa, Virginia
Maria and Alfio Caruso, Louisa, Virginia
Robbie and Jennifer Carter, Louisa, Virginia
Heather Nelson, (Performing Arts 2000), Louisa, Virginia
Manni McNeil, Collegeville, Pennsylvania
Jocelyn McClary, Louisa, Virginia
Terry Schneider, Mineral, Virginia
Elizabeth Perkins, Mineral, Virginia
Connie Falcone, Palmyra, Virginia
Kimberly Bickley, Louisa, Virginia
Kelsey Duke, Louisa, Virginia
PROFESSIONAL AND RELATED EXPERIENCES
2020 studied under Nicholas Wilton, Creative Visionary Program
November 2019 attended artist workshop in Molokai Hawaii under Nicholas Wilton
2019 studied under Louise Fletcher, Find Your Joy
2019 Studied under Nicholas Wilton, Creative Visionary Program
June 2006-November 2014 Creative Designs LLC
Graphic Designer/Printer specializing in:
• graphic design and garment printing
• CorelDraw software mastery in graphic arts
• Screen printing mastery, pad printing
• Office management, customer orders and production management
1987-2017 Louisa County Public Schools
Teacher (grades 9 through 12): Geometry and Honors Geometry, Art Foundations I
1983-1986 Louisa Flower Shop